Posts Tagged 'urn'

December 28, 2010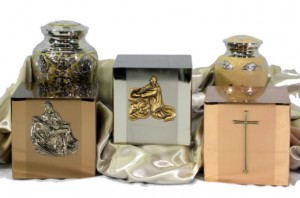 When selecting a cremation urn for yourself or a loved one, there is no shortage of styles, sizes, and types to choose from. From final disposition to aesthetics to matters as mundane as size, there are a number of factors that one must consider when selecting just the right cremation urn for you or your loved one.
Size – The size requirement of your selected cremation urn is probably one of the most crucial, yet least understood variable in selecting an urn. Many people have no idea what size urn they truly need. The calculation, however, is pretty straightforward. To make sure you have an urn large enough to accommodate your or your loved ones' ashes, use the following formula: one cubic inch for every pound you or your loved one weighed in life. For instance, if your loved one weighed 185 lbs in life, the proper urn should have an internal capacity of at least 185 cubic inches.
Function/Purpose – There are several functions or purposes for which a cremation urn can serve, such as occupying a permanent place in your home, burial, or internment in a niche. The intended final disposition is a factor for selecting an urn that must be considered prior to selecting a cremation urn. There are various urn styles and types, each of which serves to address the intended purpose.
Style or Type – The number of available urn styles is constantly expanding. Manufacturers and distributors are introducing new styles all the time. As a simple reference, however, here is a short list from which to consider:
Cube or cubic urns are just as their name implies. They are fashioned into cubes or other rectilinear volumes typically from some type of metal. Though some are produced from molds, most are fabricated usually by hand. With a more modern, understated appearance, they are quickly gaining favor with the public at large. Because of their shape, they lend themselves to having special appliqués or medallions attached, as well as to being engraved for that personal touch.
Vase urns are one of the most familiar type of urn. Though technically not truly a vase as it is fully enclosed, it does retain the general shape of a vase.
Cloisonne urns essentially are metal vases and are decorated with vitreous enamel, which is permanently fired into place within a framework of fine metal cloisonne wire that is formed into an intricate design on the urn. The finished designs are oftentimes quite elaborate with a handcrafted appeal.
Green or earth-friendly urns are quickly gaining in popularity. With our culture becoming more focused on preserving the environment, green products have been popping up for nearly every facet of our lives. Such is the case with cremation urns, as well. Recently, there has been an influx of biodegradable urns, which allow the family to have a memorial for their loved one with an attractive urn. Once buried, these urns typically will break down in days or even hours without causing harm to the environment.
Keepsake Urns are very small urns, which are used to allow multiple family members to retain a portion of a loved one's ashes. They provide an excellent solution for remembrance shared amongst a group of family members. These urns are oftentimes available in styles and finishes that match the larger, primary urn.
Quality – When it comes to cremation urns, the levels of quality vary tremendously. Materials used in their development, manufacturing methods employed, and finishing processes all have a profound effect on the overall quality of the urn. Depending on the type of urn being manufactured, some are molded in a foundry while others are fabricated by hand. Each manufacturing method has its own challenges; challenges which can vary the quality of the finished product. Ultimately, it's up to the consumer to be vigilant with respect to the quality of the urn they select.
Availability – When considering a cremation urn, you must also take into account the urn's availability and how quickly you can attain it. This is especially important in situations where there is a planned memorial service in the near future. Depending on stock levels, customization such as engraving, and shipping options, some vendors may not be able to comply with your needs. These are questions that you should ask your supplier prior to making your purchase.
These are just a few of the factors that someone considering the purchase of a cremation urn must take into account. Of course, there will always be other considerations, such as price, but these will provide you with a good start when juggling the many options available to you.